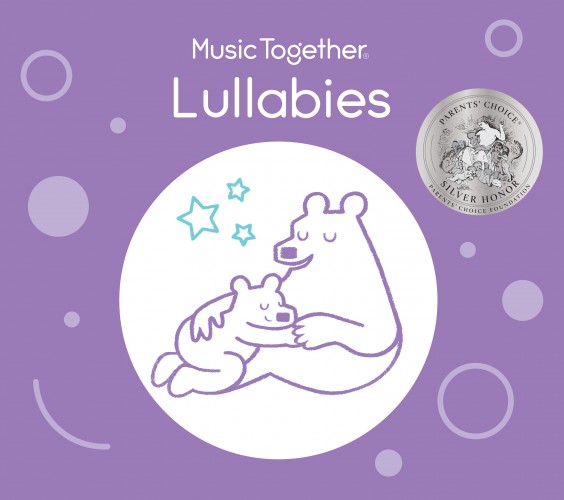 Music Together Lullabies CD and Downloads
Awards

Award-winning CD
NAPPA Gold Award
Dr. Toy's 2009 Best 10 Audio-video Products
Dr. Toy's 2009 Best 100 Products
A Parents' Choice Silver Honor Award
Mom's Choice Gold Award
Academics' Choice Smart Media Award
Parent-Tested Parent-Approved Award
Creative Child Magazine Seal of Excellence
for 2009
Dove "Family-approved" seal—received 5 out of 5 Doves
iParenting Media Award
The National Parenting Center Seal of Approval 2010
Reviews
"Another marvelous, award-winning CD [from Music Together] that won over the hearts and minds of our parent testers. Reviews were overwhelmingly loaded with praise after spending time sharing these beautifully calming songs with their children. Bedtime become special sharing time where parents can wind down with their child and share a special moment at the end of the day. Clearly these are not just for little ones, all ages were effusive in letting us know just how special this musical collection was."
—The National Parenting Center (upon awarding Lullabies The National Parenting Center's Seal of Approval award)
---
"This is a lovely collection of traditional and multicultural lullabies and quiet folk songs from Music Together, the early childhood music program that encourages families to discover the healthy, bonding rewards of making music together. Some of the tender sing along selections here: 'Shenandoah,' 'Raisins and Almonds,' 'All the Pretty Little Horses' and 'Shady Grove.'"
Lynne Heffley ©2010 Parents' Choice

A long-time Parents' Choice music critic, Lynne was a staff writer for 25 years at the Los Angeles Times where she established and maintained the paper's first weekly children's arts and entertainment beat and was a general arts reporter. Now a freelance writer, Lynne works in the areas of non-profit communications, the arts and family entertainment (specializing in children's theater, music, audio books and book illustration).
---
"This is a beautifully arranged anthology of original compositions and traditional folk lullabies from all around the world. It features musically rich arrangements and vocals that inspire relaxation and parent-child bonding."
—Dr. Toy (upon choosing Lullabies as one of the top 10 audio-video products of 2009)
---
"Music Together Lullabies contains eighteen soothing lullabies to help your little one (and you) unwind from a busy day. It is just as appealing to adults as it is to children of all ages."
—Goodies for Mom.com review
---
"Here we have a wonderful collection of soothing lullabies that can be enjoyed by the entire family. The tunes are enjoyable and in addition can help with that bonding time between children and parents. These songs are a relaxing addition to your family bedtime, rest time, or even while at play. Sing and dance to these cute melodies that young and old alike will listen to over and over again. We award the Dove 'Family-Approved' Seal for all ages to Music Together Lullabies CD."
—The Dove Foundation
---
Music Together Lullabies is a soothing anthology of all eighteen (18) lullabies from from the nine (9) Music Together song collections. This CD and digital album won eleven (11) awards including Dr. Toy's 10 Best Audio-Video Products for 2009. Features a bonus digital album access code and a 22-page booklet with lyrics and calming activity ideas for parent-child bonding.
Lullabies provide a time to be close to your child physically, emotionally, and musically. For babies and toddlers, lullaby time is a comforting ritual that eases the bedtime transition. For older children, who are increasingly verbal, it is often the time they spontaneously confide their hopes and fears. For parents and caregivers, it is a time to pause in their busy day and enjoy a moment of quiet intimacy.
A lullaby is one of the most precious gifts a parent can give a child. Enjoy!
Music Together Lullabies CD
$ 14.95
P0138
Music Together Lullabies MP3 Album
$ 9.95
K0332