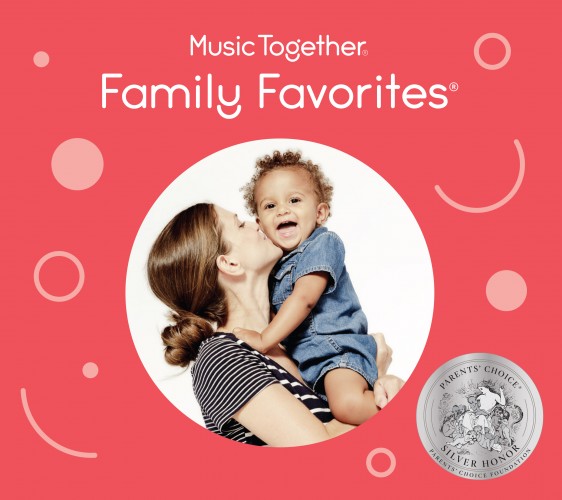 Music Together Family Favorites CD and Downloads
Awards

Award-winning CD:
A Parents' Choice Silver Honor Award
Earlychildhood News Directors' Choice
Earlychildhood News Judges' Selection
National Parenting Center Seal of Approval
NAPPA Gold Award
iParenting Media Award
Learning¬ģMagazine 2008 Teacher's Choice
for the Family
Creative Child Magazine Preferred Choice
Children's Music Web Award
Mom's Choice Gold Award
Parent-Tested Parent-Approved Award
Reviews
"Family Favorites is an enjoyable and entertaining musical journey for your little ones'Ķ [My 4-¬Ĺ-year-old] enjoys spinning around the room with a stuffed friend while the carousel-esque waltz of 'Dancing with Teddy' plays in the background. She also kicks it on 'Mississippi Cats,' as she attempts to scat along with the jazz. [My daughter] digs sitting on the floor with us, slapping her lap, just like she does at school, and rocking back and forth to the fun and diverse blues/jazz/rock/folk music on Family Favorites."
'ÄĒ"Out with the Kids" reviewer
---
"When I heard that Music Together was creating a CD for everyone, and not just the lucky families who get it free along with their children's music classes, I jumped at the opportunity to check it out'Ķ Music Together is all about culturally diverse tunes along with a variety of tonalities and rhythms'ÄĒnot just your regular old sugar-pumped nursery rhymes. [The] Music Together Family Favorites CD snags the best songs from all nine collections'Ķan excellent addition to your "distract the kids on long car rides" collection. [Family Favorites] will absolutely expose your children to a world of wonderful, appropriate music without you having to reach for your ear plugs."
'ÄĒKristen, "Cool Picks for Mom"
---
"The best part [about Family Favorites] is that it contains music from many genres, including folk and jazz. In addition to the CD, you'll get a booklet with great activity ideas to do with your child. It's also great to pop in the car…for those long…road trips… It's also a favorite CD for evening dance parties with the boys."
'ÄĒ"Goodies for Mom.com" reviewer
---
"[Music Together] promotes interactive music fun for babies, toddlers, preschoolers, and their families, and Family Favorites is a great way to see and hear what they're all about. Make sure to check out 'Stick Tune,' a very simple song that's impossible not to dance to, featuring Yvette Glover, dancer Savion Glover's mom. A super collection of tunes for the home and the preschool classroom."
'ÄĒ"Kids Music that Rocks" reviewer
---
"The fun thing about this CD is how often you find yourself singing the songs during the day. When we get our daughter out of bed in the morning, we sing the 'Hello Song.' When we are giving her a bath, we sing 'Splishing and Splashing'… I would highly recommend this CD."
'ÄĒLaurie H. Lee, Amazon.com reviewer, Nashville, TN
---
"Designed to expose children to the elements of music: rhythm, pitch, instrumentation, etc., through a mix of traditional, ethnic, and original material. The music is chosen to involve families in the musical experience, singing, playing, dancing, and creating."
'ÄĒParents' Choice reviewer
---
Music Together Family Favorites features nineteen (19) of the best-loved songs from the nine (9) Music Together song collections. This CD and digital album won eleven (11) awards including a Parents' Choice Silver Honor award. Features a bonus digital album access code and a 22-page booklet with lyrics and fun music-making activity suggestions for every song for use at home, in the car, or in the preschool classroom.
Music Together Family Favorites CD
$ 14.95
P0137
Music Together Family Favorites MP3 Album
$ 9.95
K0331