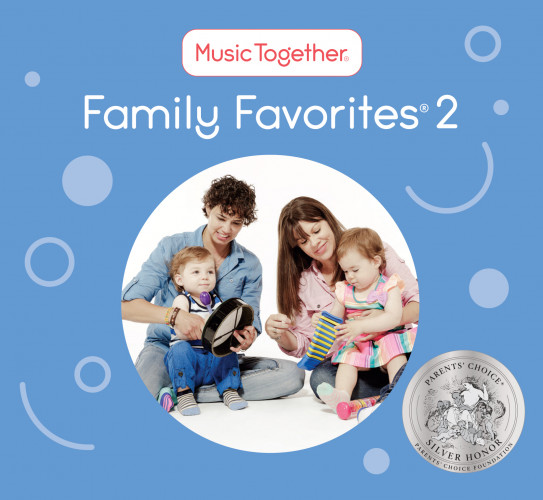 Music Together Family Favorites 2 CD and Downloads
Awards

Award-winning CD
A Parents' Choice Silver Honor Award
Creative Child Magazine 2010 CD of the Year Award—Family Music Category
NAPPA Gold Award
Tilliwig "Top Fun Gold" Award
Parent-Tested Parent-Approved Award
National Parenting Center Seal of Approval
Dove ""Family-approved"" seal—
received 5 out of 5 Doves
Dr. Toy's 2010 Best 100 Products Award
Dr. Toy's 10 Best Audio/Visuals for 2010 Award
Reviews
"Music Together shows how adults can make music with their children in simple, yet rewarding ways. The well annotated CD booklet, gives teachers, educators and parents an abundance of ideas for movement, participation, singing and supplementary activities for children to do with and to the music. Here, the second volume of the Family Favorites series features 19 songs, including wonderful interpretations of traditional rhymes and tunes such as 'Hey, Diddle, Diddle,' 'There's a Little Wheel a-Turnin',' 'This Train (Is Bound for Glory),' the Native American chant 'Hey Ya Na,' and lullaby 'Sleepyhead,' as well as some fine original songs. The instrumentation is a seamless mix of acoustic guitars, superbly expressive upright bass, percussion, and a succession of singers who are both gentle and melodic. Their entire approach to music and movement for younger children achieves a balance of thoughtfulness, respect for the musical sensibilities of adults and children, and pure fun."
—Lahri Bond ©2010 Parents' Choice
Lahri Bond is a father, a writer and the art director for Dirty Linen: The Magazine of Folk and World Music.
---
"This is a truly fabulous CD for children and family, every song on it a joy to sing-, move-, or dance-along to. There's an overall quality to the music, instrumentation, and lyrics that's so bright, cheery, and engaging, it's hard to imagine not feeling happy while listening to it. The presence of both adult and (lovely) children's voices invites active participation by all ages. The various meters, keys (both major and minor), and rhythmic accompaniments complement the wealth of musical styles, providing an incredibly rich listener experience. It would be difficult to name favorite songs, only because each one is delightful in its own unique way. A 32-page booklet includes a fun music-making activity suggestion for each and every song. We can't say enough good things about this wonderful musical experience!"
—Tilliwig Awards reviewer
---
"Music Together¼ Family Favorites¼ 2 follows the original award-winning Family Favorites¼ CD—and features original compositions as well as tunes from the folk, jazz, and world music traditions. This anthology of family music features 19 outstanding songs and rhythmic rhymes drawn from all nine Music Together song collections. This artfully produced recording includes a wide range of tonalities and meters, vital for expanding children's music experiences. The CD offers a rich listening experience and it's fun to dance to and sing along with for children and adults alike. Included is a 32-page beautifully illustrated booklet with fun music-making activity suggestions for every song, to help you use them at home, in the car, or in the preschool classroom. This acclaimed, international early childhood music education program, has enriched the musical lives of families around the world. Since its founding in 1987, Music Together has offered developmentally appropriate, research-based classes for children and their parents and caregivers in more than 2,000 communities and 30 countries around the world. Hundreds of thousands of families have come to love Music Together classes—and its music!"
—"Dr. Toy" reviewer
---
"Designed to expose children to the elements of music: rhythm, pitch, instrumentation, etc., through a mix of traditional, ethnic, and original material. The music is chosen to involve families in the musical experience, singing, playing, dancing, and creating."
—Parents Choice
---
"You will find that the music on this CD will capture your imagination and your child's and let you sway to the beat and have a fun time with the music. The songs included on this CD include both a hello song and a goodbye song and then some fun songs in between that kids can sway, dance and tap their feet to. Built into the CD jacket is a 32 page book that tells you how to interact with your child and listen to each song. It is so detailed and descriptive that its almost like taking a Music Together class but one you can enjoy at home in the privacy of your own living room. However, this CD is really for a young age group. My kids are 5 and younger and they enjoyed it but older kids might not enjoy it as much. It plays some fun tunes like a 'Merry Go Round' song and 'Hey, Diddle Diddle' and my daughter was crazy over the 'Wiggle' song. If you are looking for some cute and catchy tunes that you and your child can dance and enjoy together then this is a very fun CD for a great bonding time with your child."
—Reviewer from www.macaronikid.com
---
"Following in the footsteps of the original Family Favorites CD, this CD provides a music education program for children from birth through kindergarten. This collection is from the people at Music Together, who are experts at this from their patented parent-child classes. Family Favorites 2 features 19 songs including original compositions along with tunes from the folk, jazz and world music traditions. These songs are fun to dance to and sing along with your children. Every family needs a home library of songs for movement, development, and parent-child interaction."
—National Parenting Publications Awards (NAPPA)
---
"Music Together brings a wonderful collection of tunes that can be enjoyed by the entire family. The songs are fun and enjoyable to listen to at home or in the car. Sing and dance to these cute harmonized melodies that young and old alike will listen to over and over again. We award the Dove 'Family-Approved' Seal for all ages to Music TogetherÂź Family FavoritesÂź 2 (CD)."
—The Dove Foundation reviewer
---
"I LOVED the [ Family Favorites 2 activity] book! I read the book like 3 times! I am a preschool teacher of 3-year-olds and as I was using this CD with my 4-year-old son and 7-month-old daughter, I was seeing myself using this in my classroom setting. I intend to recommend it! ... This CD was well over my expectations!"
—Parent Tested Parent Approved (PTPA Media) reviewer
---
Music Together Family Favorites 2 features nineteen (19) of the best-loved songs from the nine (9) Music Together song collections. This CD and digital album won nine (9) awards including a Parents' Choice Silver Honor award. Features a bonus digital album access code and a 22-page booklet with lyrics and fun music-making activity suggestions for every song for use at home, in the car, or in the preschool classroom.
Music Together Family Favorites 2 CD
$Â 14.95
P0305
Music Together Family Favorites 2 MP3 Album
$Â 9.95
K0333