Music Together In School—The Leading Early Childhood Music Curriculum
Bring the power of music to children in your community by reaching them where they're now spending much of their time—in schools and childcare centers.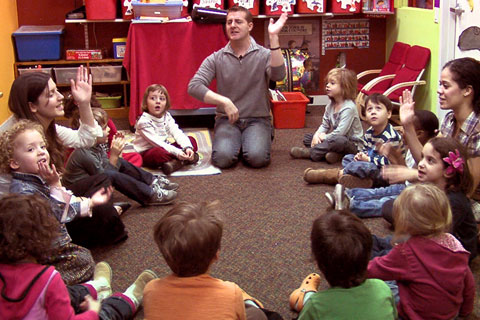 Our comprehensive Music Together In School curriculum for children from birth through second grade offers early learning settings a consistently high level of music education that's geared to the way children learn. Children can enjoy a playful learning environment that's musically rich, yet immediately accessible to their—and their teacher's—participation. Teachers love the professional development and family engagement at the root of the program. And parents love that the music comes home, so they can share in the experience.
We designed our program to be easily integrated into any school environment, such as childcare settings, preschools, and public, independent, and faith-based schools. As a trained teacher, you can obtain a license to offer Music Together in school settings, developing an early childhood music business of your own with little to no investment. Reach children by contracting directly with schools, and provide a service that will benefit everyone it touches—children, families, teachers, and the entire school community!
Click here to learn more about Music Together In School.