An Interview with Rhythm Kids Creator and Program Developer Tom Foote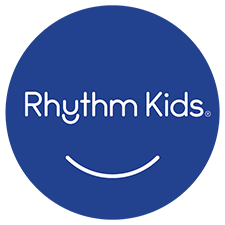 Rhythm Kids, our class for pre-K through second-graders, taps into how big kids are wired to learn—and this fall, many classes are going virtual with Rhythm Kids Online. Students learn music and drumming in a high-energy, super-fun, and interactive online class that helps them take their music skills to the next level, while also supporting their creative development, leadership skills, and more.
Rhythm Kids was created by percussionist and educator, Tom Foote, who continues to lead its development at Music Together Worldwide, along with Founder and Artistic Director, Ken Guilmartin. Each semester brings a new song collection with drumming patterns and tunes inspired by musical traditions from around the world, adapted for children to learn through playful phrases about animals that children love!
We recently sat down to talk to Tom about Rhythm Kids. Keep reading to learn more about this innovative program. (Find a class near you at musictogether.com.)
Question (Q): How did you learn about drumming patterns?
Tom Foote, Rhythm Kids Creator and Program Developer (TF): I studied with a few West African drumming masters, including Moussa Traore and Sori Diabate from Mali, and Malinké master drummers Famadou Kanoté and Mamady Keïta from Guinea. I also took classes at Berklee College of Music from Percussion Professor Joe Galetoa.
From them, I learned about drumming technique, the patterns and their meanings, and the way drumming systems are organized, and so much about what the systems and patterns mean to each particular culture.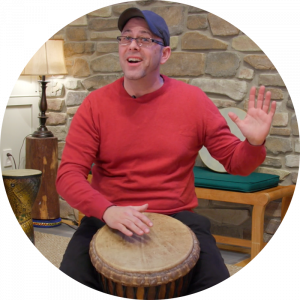 Q: How did you translate your study of traditional drumming to create a class for children?
TF: My brother (also an educator and percussionist) and I went to my 4-year-old son's preschool and my nephew's kindergarten classes to do some drum exploration and movement. We were teaching them drumming patterns based on the ones I was studying, and I noticed the kids were having a hard time with one of them. I asked one of the students, "What's your favorite animal?" It was a monkey, so, I improvised a phrase about monkeys that fit the rhythm of the pattern and started playing and chanting it. All of a sudden, the kids locked into the rhythm, and they were dancing and playing the pattern they hadn't grasped before.
I realized it wasn't just the use of a phrase to teach the pattern, which lots of educators do. It was something about the playfulness of the animal, and the opportunity for movement, creativity, and dramatic play that came from that. At the time, I had a full-time job, so I developed Rhythm Kids on the side. I went back to the class with different animal phrases, and through my work with the kids, came up with a system of learning and pedagogy. It all started from a little improvisational moment with the student who liked monkeys!
Q: You just talked about drumming systems and patterns. How would you explain that to a parent who isn't familiar with drumming or music theory?
TF: Drumming is an important part of the music tradition of many cultures, and each one is different, of course. I've found that with Latin American and African rhythms, in particular, different drumming parts serve different functions. Tonal bass drums keep a melody and set the pattern. Then, you have these accompaniment patterns and solo patterns that layer on top of the melodic pattern. Together, they create a drumming system with layering of patterns that are all based on this root rhythm. The rhythm is often connected to a song and dance, so it becomes this integration of traditional song and dance that is rooted in the drumming. (For example a "Fanga" is a well-known drumming pattern that's often used as part of songs of welcome, and "Suku" forms the basis of a traditional social dance in Mali.) The system allows for improvisation and adaptations of the music over time, but master drummers control its evolution and decide whether additional rhythms can be added, in order to preserve the integrity of the original pattern.
Q: When you're teaching drumming patterns in Rhythm Kids, do you set those same parameters for the kids?
TF: The drumming patterns we teach in Rhythm Kids are based on or inspired by traditional drumming systems. We have four patterns per collection. One is derived from the lower melodic part, the second is an accompaniment part, and then a couple are solo lines or improvisations. I worked with my drumming teachers to get their OK on adaptations before including them in the collections. We always want to honor the original traditions.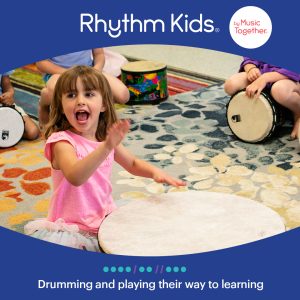 Q: Do you have a favorite moment from class?
TF: I have a lot! Here's a favorite. We recorded a song from Japan, "Suzume Odori," and taught the students movements based on the traditional dance. One family went to the Cherry Blossom Festival in San Francisco, and they recognized the song and dance from class. They realized that through Rhythm Kids, they had built this connection with another culture. And the little girl impressed everyone by knowing the name of the song and some of the dance steps!
Other than that, my favorite moments are about seeing music development in my students. I'm fortunate to teach Music Together Babies and Mixed-age classes, Rhythm Kids, and private lessons. It's pretty cool watching kids grow from toddlers randomly shaking eggs, to 4-year-old passing them on the beat, to second-graders making up complicated patterns by themselves. Then, I get to see them put it all together in a uke or drum lesson . . . That's where it's at!
Q: How does Rhythm Kids support children who might want to take dance, voice, piano lessons, etc.?
TF: Rhythm Kids is multifaceted, multimodal learning with rhythm, and it helps children develop many skills that will help them if they continue music instruction. The drumming and vocal activities help children develop a strong sense of beat, confidence with independent singing, and composition and arrangement skills. We teach the basics of folk dances, and allow children to create their own movements based on them, which supports rhythmic development and improvisation.
We also introduce basic music terminology through movement. We might teach forte (play loudly) or fermata (hold a note longer than it's written). I'll first have them express it through their bodies, then on the drum. Then I show them a card with the term and its symbol and tell them, "That's what you're doing!" Because they have experienced and played with it through movement, it becomes that much easier for them to remember the concept.
Finally, I've been fortunate to remain connected with some of my first students on Facebook. One student was in Rhythm Kids at age 7 or 8, and they're now a Music Theater major at Columbia College in Chicago—and another is a finalist on American Ninja! So, Rhythm Kids can support growth in all kinds of ways!
To find a Rhythm Kids Online class for your child, please visit our RKO Class Locator at musictogether.com.